Greetings from Prince Resort!
Spring is finally here and the weather couldn't be any more perfect! Summer is quickly approaching, but there is still time to plan your getaway to Prince Resort before the crowds arrive. To make your reservations at the Prince Resort visit
www.PrinceResortOnline.com
or call 1-877-619-5635.
News from Prince Resort
A Night to Remember
Prince Resort was the perfect place to ring in the new year!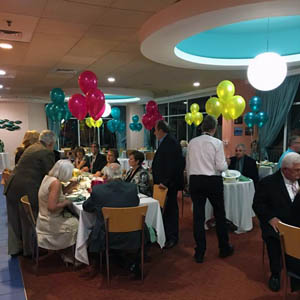 Our New Year's Eve Dinner and Celebration was held in 3500 Ocean grill, providing our guests with a breathtaking view of the ocean. Chef Richard MacGregor prepared a delicious buffet meal, with a multitude of mouth-watering entrees to choose from including Roast Pork Loin with Marsala Champignon sauce, Chicken Veloute with scallions, asparagus and rainbow peppers, and Flounder Florentine. The dessert table included Turtle Cheesecake, Godiva Chocolate Mousse, and Petit Fors.
David Jacobs, aka "DJ the DJ", kept the dance floor packed well into the night. "Everyone had a fantastic time dancing the night - and year - away at our New Year's Celebration," said Stephanie Chestnut, General Manager, "we are already planning next year's celebration and hope to see you there!"
Prince Resort's New Faces
We were very excited to welcome several new managers to our winning team in 2016!
O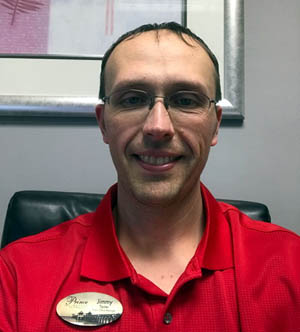 ur new Front Office Manager, Jimmy Tester, joined the team in spring and immediately made a positive impact on our front desk. Jimmy hails from East Tennessee and moved to the Myrtle Beach area 15 years ago. Prior to joining the Prince team, Jimmy managed the front office at a 300+ room resort in Myrtle Beach for 8 years.
Jimmy's goal for 2017 is to improve the customer service at the Front Desk. He hopes that making the work environment more enjoyable for the staff will in turn make for a more enjoyable stay for our guests.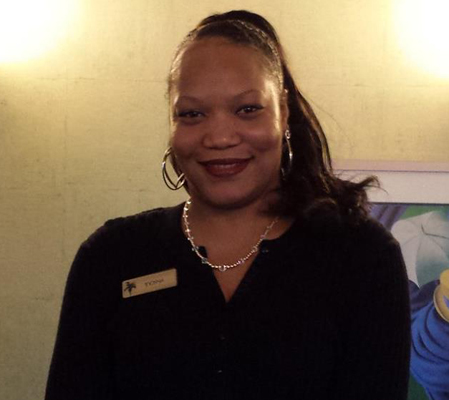 Most recently, Toni Taylor joined the team as Assistant Director of Housekeeping. Prior to joining the Prince team, Toni worked in the housekeeping department at our sister property, Avista Resort. Her hard work and dedication to her job was noticed, and she was quickly promoted to Assistant Director of Housekeeping at our other sister property, Seaside Resort.
In 2017, Toni hopes to lead the housekeeping department by example and develop a loyal team of housekeepers. We are positive Toni's efforts will lead to an improvement in the overall quality of work done by our housekeeping department!
Snowbird Fun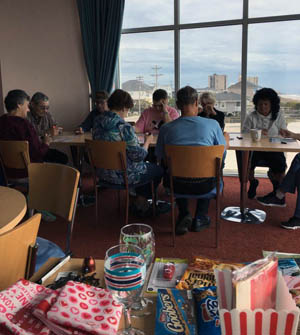 The Snowbirds have arrived! It is always nice to see familiar faces and we are so happy to have many returning Snowbirds this season!
Abbey Phillips, our Activities Coordinator, has many activities planned to keep our Snowbirds busy for the rest of their stay. Her activities schedule is full of fun socials, events, clubs, and outings for the Snowbirds to participate in.
One of the most popular clubs is the Snowbird Baking Club. In December, the club focused on sharing cookie and candy recipes. For the New Year, the group is concentrating on sharing healthy treat recipes. In addition to the baking club, there is also a book club and wine club.
"We are eagerly awaiting the arrival of the rest of our Snowbirds who will join us later in the new year!" said Abbey Phillips, Activities Coordinator.
Jingles the Elf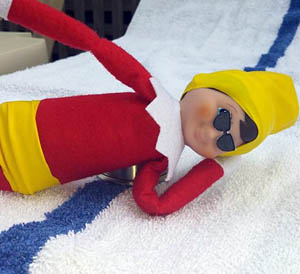 If you follow our Facebook page you will surely know all about the adventures of our Elf on the Shelf Jingles and his reindeer sidekick Cherry.
The job of an Elf on the Shelf is to help Santa manage his naughty and nice list by serving as Santa's eyes and ears and reporting his findings back to the North Pole. Jingles, being a rookie scout elf, completely forgot his duties and had a great adventure while at Prince Resort! Jingles was so in love with the resort, he even looked into purchasing a unit here and tried to secure employment in the area.
Santa put an end to Jingles' beach life dream and ordered him back to the North Pole on Christmas Eve. In an unexpected turn of events, Jingles was subsequently "Elfnapped" and has not been seen or heard from since.
Has Jingles really been Elfnapped? Has Jingles gone AWOL?
Perhaps we will find out later this year...
"Favorite Prince Resort Memory"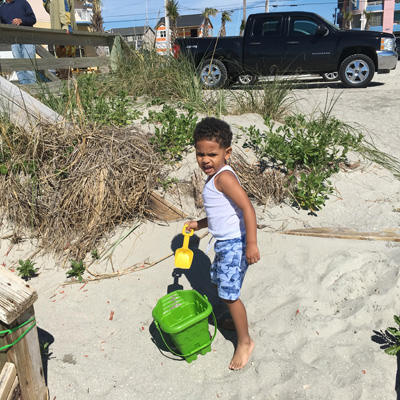 Our new photo contest is underway! We are inviting all of our guests to share a favorite moment from their trip to Prince Resort for a chance to win a $150 Resort Credit plus 35% off a future stay.
Entries will be accepted through September 29, 2017 so there's still plenty of time to capture the perfect shot! Don't forget to pack your camera for your next trip so you can enter for your chance to win.
Submit your photo
or view the
contest gallery
to vote for your favorite entry!

News from the Beach
Tiger's Myrtle Beach Safari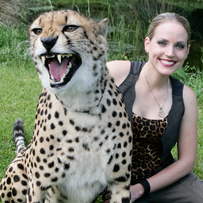 Are you in for a wild time during your stay here in Myrtle Beach? No, it's not what you're thinking...
A wildly unforgettable experience is waiting to be discovered at TIGERS Myrtle Beach Safari, a local hidden gem that is home to over 130 wild animals, including 60 tigers!
TIGERS offers a fully interactive, hands-on Wild Encounters Tour on their 50-acre wildlife preserve. You'll be able to cuddle up to tiger cubs, pet wolf pups, witness adult tigers running at full speed, and feed Bubbles, the African elephant.
Start planning your
TIGERS Wild Encounters Tour
today!
Dave & Busters to open in June
Dave & Busters is set to open their first Myrtle Beach location on June 5th and locals and vacationers alike couldn't be more excited!
Dave & Buster's Myrtle Beach
is the newest addition to Broadway at the Beach and will feature two floors of arcade games and dining in a 40,000 square foot building. Featured games range from classics such as Pacman and Skee-Ball to new favorites like Candy Crush Saga. Take a break between games to enjoy a meal at the full-service restaurant located inside.
From The Golf Desk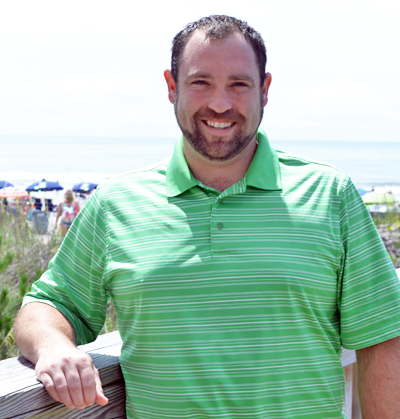 This winter may have been the mildest I have seen in the 12 years I have been at the Beach! We had fantastic weather and great golf course conditions.
As summer approaches and the families start to arrive, we would like to introduce our Kids Play Free Program. We all know vacationing can get expensive with all the attractions, dinners, and shows. This offer will bring you family fun on the greens at a savings of half the price. We have partnered with over 50 area golf courses to bring you this exciting new program. One junior (16 and under) plays FREE per each paid adult. Even better, the courses are offering discounted rates on the adult price. Nearly 25 to 30 courses will allow you to tee off any time of the day, however some courses do require play after 12:00PM. For more information, give us a call or email
Golf@mbseasideresorts.com
.
Looking to book a tee time after you arrive for your vacation? You will want to check out our partner site
48HourTeeTimes.com
to find the best rates on your last minute tee times.

Until next time, go enjoy the beautiful weather and keep it in the fairway!
Scott Thrailkill,
Director of Golf - Prince Resort, Myrtle Beach SeaSide Resorts, MyrtleBeachGolf.net, and TeeUpMyrtleBeach.com.
Guest Comments
"
Love love loved this place!!! Convenient, clean, caring!! The 3 C's!! The staff down to the maid service were professional and very attentive, condo fully stocked very homey!! Can't wait to go back!! Felt like a Prince(ess) my entire stay!! Ashley M, April 2017

"

We enjoyed our stay at the Prince Resort. The condo was clean and furnished well with enough towels and linens. We used the DVD service and it was nice to have two pools available.

" Joanna S, April 2017

Read more guest comments.
Fun in the Sun
Beach Travel Tips
Packing for the beach can seem like a daunting task. These tips below will make it a little easier for you.
Make your own beach blanket: If you have an older sheet or blanket, you can easily make your own beach blanket! Fold over the corners and sew them into pockets. You'll end up with pockets to store you stuff and also have an easy way to anchor the blanket to the sand.
Give away your beach toys at the end of the week: If the thought of taking $20 worth of beach toys back home with you doesn't float your boat, why not pay it forward and give the toys to another family to use on your last day? You don't have to lug sandy plastic back to your house, plus you'll make someone else's day!
From the Kitchen
Watermelon Feta Salad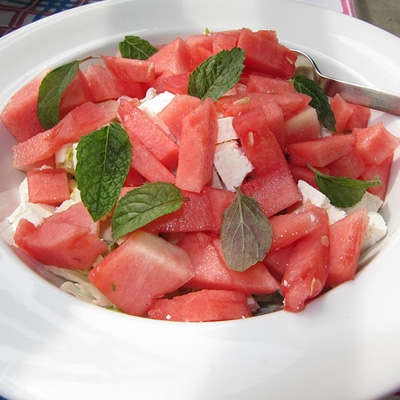 Ingredients
1/2 large chilled seedless watermelon, cut into 1 inch cubes
1 small red onion, sliced
1 cup thinly sliced fresh basil leaves
1 cup chopped fresh cilantro
1/2 cup minced fresh mint leaves
2 limes, juiced
1 (4 ounce) package crumbled feta cheese
3 tablespoons olive oil
2 tablespoons balsamic vinegar
salt and ground black pepper to taste
Instructions
Gently toss watermelon, onion, basil, cilantro, mint, lime juice, feta cheese, olive oil, balsamic vinegar, salt, and black pepper together in a large bowl.