Spring 2017 Vol. 8 Issue 2
Greetings from Prince Resort!
Spring is finally here and the weather couldn't be any more perfect! Summer is quickly approaching, but there is still time to plan your getaway to Prince Resort before the crowds arrive. To make your reservations at the Prince Resort visit
www.PrinceResortOnline.com
or call 1-877-619-5635.
News from Prince Resort
Easter at Prince Resort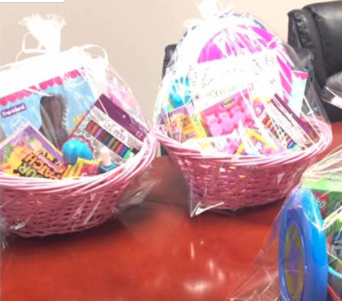 Easter weekend at Prince Resort was a fun time for everyone. The weekend kicked off with our annual coloring contest and jelly bean count and the fun continued over the weekend.
Kids of all ages had fun painting suncatchers, crafting sand art, and creating unique Easter handprint t-shirts! The fun kept on going after the sun went down at our Easter Party, where even the Easter Bunny was in attendance. Kids had fun playing games, eating pizza, and watching a movie.
The Easter Bunny made another appearance on Easter morning to surprise our guests with baskets filled with goodies and games. We are all looking forward to planning next year's Easter celebration!
A Fresh New Look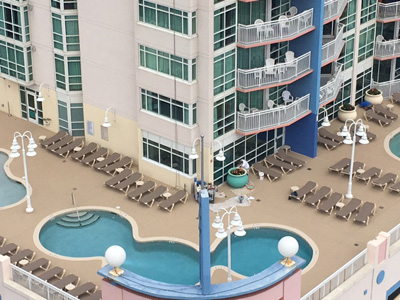 Our engineering staff has been staying busy during the slower season with many projects around the property. Chief Engineer David Sides and his team have planted a beautiful garden of hibiscus and other blossoms to add a bright pop of color to the outdoor grounds. The elevator lobby of Tower 1 has also been spruced up with new tile and a fresh coat of paint.
Next time you visit the Prince Resort, be sure to head over to the newly renovated rooftop pool deck for a fun day in the sun. The pool deck has been completely resurfaced and freshly painted. The Tower 1 pool deck is scheduled to receive a fresh coat of paint later on this year. We hope you enjoy the enhancements to the property on your next visit!
Exciting New Menu Items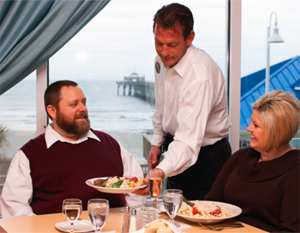 Our Food & Beverage team has been kicking into high gear to prepare for the busy season. Chef Richard MacGregor and our Food & Beverage Director, Don Alford, have added some exciting new items to the menus at 3500 Ocean Grill and Boardwalk Beach Cafe. Don and Richard are most excited to introduce Portobello Tacos, Shrimp Po Boys, and Gazpacho to the menu at Boardwalk Beach Cafe.
3500 Ocean Grill has reopened for daily breakfast now through the summer season and is serving dinner on Friday and Saturday. The restaurant will open daily for dinner beginning in June. Be sure to check out our weekend specials, including "All You Can Eat" Spaghetti on Fridays and Prime Rib specials on Saturdays!
News from the Cherry Grove Pier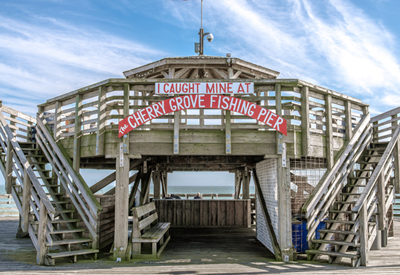 Along with the influx of tourists we are starting to see the arrival of "salt life lovers", those who love spending time on the pier. Thousands of people come to the Cherry Gove Pier each year to fish for everything from king mackerel, spots, blues, flounders, and the occasional shark.

The staff has been busy building new benches and replacing railing as needed to keep the pier looking at it's finest. The Cherry Grove Pier is fully stocked with everything you need for a day of fishing including rods, reels, bait, snacks, and a new line of souvenirs. Stop by the tackle shop for any of your fishing needs, and also to rent equipment to use!


"Favorite Prince Resort Memory"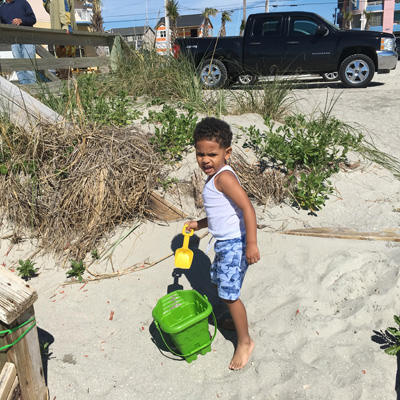 Our new photo contest is underway! We are inviting all of our guests to share a favorite moment from their trip to Prince Resort for a chance to win a $150 Resort Credit plus 35% off a future stay.

Entries will be accepted through September 29, 2017 so there's still plenty of time to capture the perfect shot! Don't forget to pack your camera for your next trip so you can enter for your chance to win.
Submit your photo or view the contest gallery to vote for your favorite entry!


News from the Beach
TIGERS Myrtle Beach Safari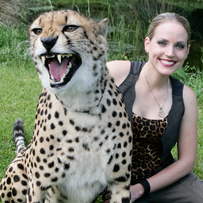 Are you in for a wild time during your stay here in Myrtle Beach? No, it's not what you're thinking...
A wildly unforgettable experience is waiting to be discovered at TIGERS Myrtle Beach Safari, a local hidden gem that is home to over 130 wild animals, including 60 tigers!
TIGERS offers a fully interactive, hands-on Wild Encounters Tour on their 50-acre wildlife preserve. You'll be able to cuddle up to tiger cubs, pet wolf pups, witness adult tigers running at full speed, and feed Bubbles, the African elephant.
Start planning your
TIGERS Wild Encounters Tour
today!
Dave & Busters to open in June
Dave & Busters is set to open their first Myrtle Beach location on June 5th and locals and vacationers alike couldn't be more excited!
Dave & Buster's Myrtle Beach
is the newest addition to Broadway at the Beach and will feature two floors of arcade games and dining in a 40,000 square foot building. Featured games range from classics such as Pacman and Skee-Ball to new favorites like Candy Crush Saga. Take a break between games to enjoy a meal at the full-service restaurant located inside.
From The Golf Desk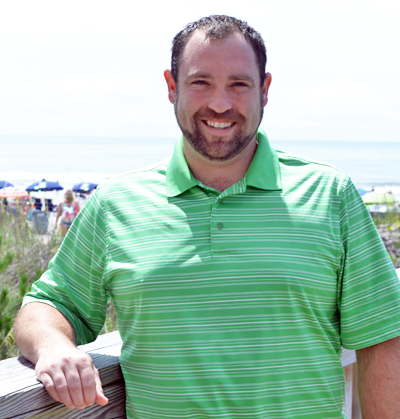 This winter may have been the mildest I have seen in the 12 years I have been at the Beach! We had fantastic weather and great golf course conditions.
As summer approaches and the families start to arrive, we would like to introduce our Kids Play Free Program. We all know vacationing can get expensive with all the attractions, dinners, and shows. This offer will bring you family fun on the greens at a savings of half the price. We have partnered with over 50 area golf courses to bring you this exciting new program. One junior (16 and under) plays FREE per each paid adult. Even better, the courses are offering discounted rates on the adult price. Nearly 25 to 30 courses will allow you to tee off any time of the day, however some courses do require play after 12:00PM. For more information, give us a call or email
Golf@mbseasideresorts.com
.
Looking to book a tee time after you arrive for your vacation? You will want to check out our partner site
48HourTeeTimes.com
to find the best rates on your last minute tee times.

Until next time, go enjoy the beautiful weather and keep it in the fairway!
Scott Thrailkill,
Director of Golf - Prince Resort, Myrtle Beach SeaSide Resorts, MyrtleBeachGolf.net, and TeeUpMyrtleBeach.com.
Guest Comments
"
Love love loved this place!!! Convenient, clean, caring!! The 3 C's!! The staff down to the maid service were professional and very attentive, condo fully stocked very homey!! Can't wait to go back!! Felt like a Prince(ess) my entire stay!! Ashley M, April 2017

"

We enjoyed our stay at the Prince Resort. The condo was clean and furnished well with enough towels and linens. We used the DVD service and it was nice to have two pools available.

" Joanna S, April 2017

Read more guest comments.
Fun in the Sun
Beach Travel Tips
Packing for the beach can seem like a daunting task. These tips below will make it a little easier for you.
Make your own beach blanket: If you have an older sheet or blanket, you can easily make your own beach blanket! Fold over the corners and sew them into pockets. You'll end up with pockets to store you stuff and also have an easy way to anchor the blanket to the sand.
Give away your beach toys at the end of the week: If the thought of taking $20 worth of beach toys back home with you doesn't float your boat, why not pay it forward and give the toys to another family to use on your last day? You don't have to lug sandy plastic back to your house, plus you'll make someone else's day!
From the Kitchen
Watermelon Feta Salad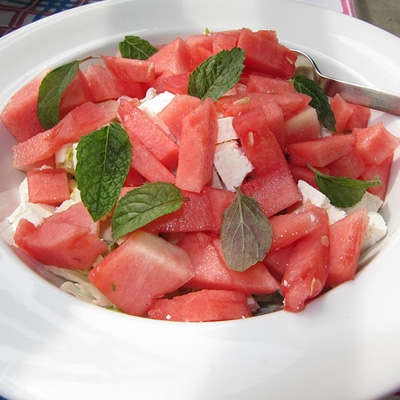 Ingredients
1/2 large chilled seedless watermelon, cut into 1 inch cubes
1 small red onion, sliced
1 cup thinly sliced fresh basil leaves
1 cup chopped fresh cilantro
1/2 cup minced fresh mint leaves
2 limes, juiced
1 (4 ounce) package crumbled feta cheese
3 tablespoons olive oil
2 tablespoons balsamic vinegar
salt and ground black pepper to taste
Instructions
Gently toss watermelon, onion, basil, cilantro, mint, lime juice, feta cheese, olive oil, balsamic vinegar, salt, and black pepper together in a large bowl.