Winter 2017 Vol. 8 Issue 1
Greetings from Prince Resort!
The Holidays have come and gone and 2017 has arrived to beautiful weather and sunny skies! Now is the perfect time to plan your getaway to Myrtle Beach before the crowds arrive.To make your reservations at the Prince Resort visit
www.PrinceResortOnline.com
or call 1-877-619-5635.
News from Prince Resort

A Night to Remember
Prince Resort was the perfect place to ring in the new year!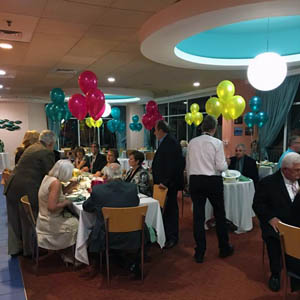 Our New Year's Eve Dinner and Celebration was held in 3500 Ocean grill, providing our guests with a breathtaking view of the ocean. Chef Richard MacGregor prepared a delicious buffet meal, with a multitude of mouth-watering entrees to choose from including Roast Pork Loin with Marsala Champignon sauce, Chicken Veloute with scallions, asparagus and rainbow peppers, and Flounder Florentine. The dessert table included Turtle Cheesecake, Godiva Chocolate Mousse, and Petit Fors.
David Jacobs, aka "DJ the DJ", kept the dance floor packed well into the night. "Everyone had a fantastic time dancing the night - and year - away at our New Year's Celebration," said Stephanie Chestnut, General Manager, "we are already planning next year's celebration and hope to see you there!"
Prince Resort's New Faces
We were very excited to welcome several new managers to our winning team in 2016!
O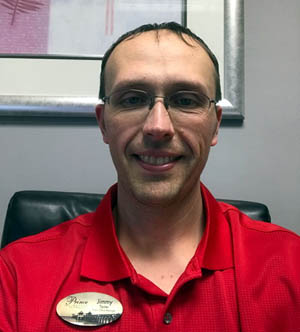 ur new Front Office Manager, Jimmy Tester, joined the team in spring and immediately made a positive impact on our front desk. Jimmy hails from East Tennessee and moved to the Myrtle Beach area 15 years ago. Prior to joining the Prince team, Jimmy managed the front office at a 300+ room resort in Myrtle Beach for 8 years.
Jimmy's goal for 2017 is to improve the customer service at the Front Desk. He hopes that making the work environment more enjoyable for the staff will in turn make for a more enjoyable stay for our guests.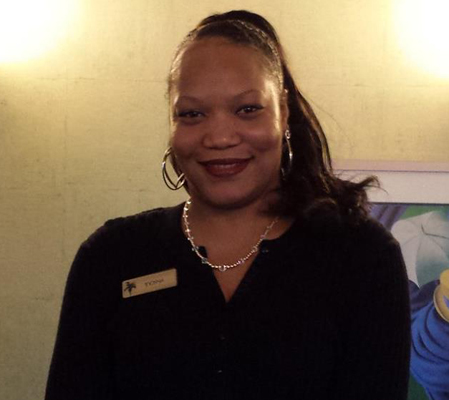 Most recently, Toni Taylor joined the team as Assistant Director of Housekeeping. Prior to joining the Prince team, Toni worked in the housekeeping department at our sister property, Avista Resort. Her hard work and dedication to her job was noticed, and she was quickly promoted to Assistant Director of Housekeeping at our other sister property, Seaside Resort.
In 2017, Toni hopes to lead the housekeeping department by example and develop a loyal team of housekeepers. We are positive Toni's efforts will lead to an improvement in the overall quality of work done by our housekeeping department!

Snowbird Fun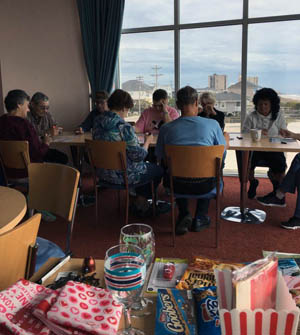 The Snowbirds have arrived! It is always nice to see familiar faces and we are so happy to have many returning Snowbirds this season!
Abbey Phillips, our Activities Coordinator, has many activities planned to keep our Snowbirds busy for the rest of their stay. Her activities schedule is full of fun socials, events, clubs, and outings for the Snowbirds to participate in.
One of the most popular clubs is the Snowbird Baking Club. In December, the club focused on sharing cookie and candy recipes. For the New Year, the group is concentrating on sharing healthy treat recipes. In addition to the baking club, there is also a book club and wine club.
"We are eagerly awaiting the arrival of the rest of our Snowbirds who will join us later in the new year!" said Abbey Phillips, Activities Coordinator.

Jingles the Elf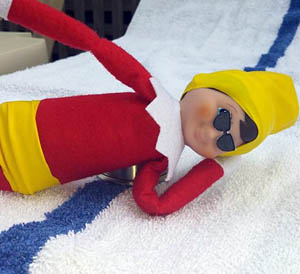 If you follow our Facebook page you will surely know all about the adventures of our Elf on the Shelf Jingles and his reindeer sidekick Cherry.
The job of an Elf on the Shelf is to help Santa manage his naughty and nice list by serving as Santa's eyes and ears and reporting his findings back to the North Pole. Jingles, being a rookie scout elf, completely forgot his duties and had a great adventure while at Prince Resort! Jingles was so in love with the resort, he even looked into purchasing a unit here and tried to secure employment in the area.
Santa put an end to Jingles' beach life dream and ordered him back to the North Pole on Christmas Eve. In an unexpected turn of events, Jingles was subsequently "Elfnapped" and has not been seen or heard from since.
Has Jingles really been Elfnapped? Has Jingles gone AWOL?
Perhaps we will find out later this year...

Star Agent of 2016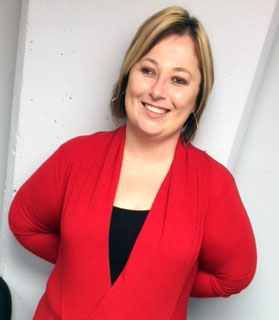 Meet our Star Revenator of 2016, Heather Cook!
Heather has been part of our Reservations team for almost two years and has been a great asset to our company. Heather was our Star Agent of the Month 3 times throughout 2016. Most of her success is due to her stellar customer service skills! Management often receives feedback from guests who want to share their positive booking experience with Heather.
Heather's hard work and dedication has paid off as she is transitioning into a new role within our Internet Services Department. Congratulations Heather! We are certain 2017 will be another successful year for you!

News from the Beach
The Track Myrtle Beach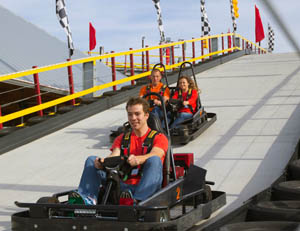 Making it's debut to the Myrtle Beach area is the Track Recreation Center, promising one-stop action-packed fun for the entire family.
The Track features two multi-level elevated go-kart tracks, the first and only of their kind in Myrtle Beach! The multi-level track gives drivers a hybrid go-kart roller coaster experience. At the center of The Track is a nearly 6,000 foot air conditioned, indoor arcade with something for every age!
The Track's signature track, Wild Woody, takes drivers up three levels and then circles back down three levels for the ultimate thrill! Younger drivers can enjoy a day of driving on the Rookie Karts and Kiddie Karts.
For more information about The Track Family Recreation Center, please
Click Here
.
From The Golf Desk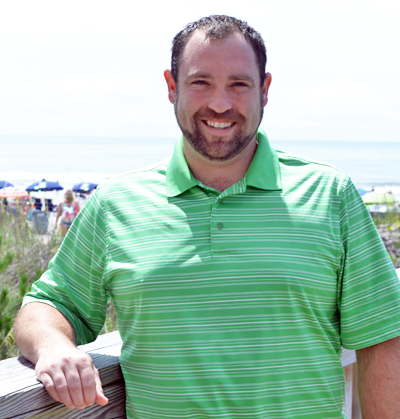 First of all, I would like to take the opportunity to thank everyone for a remarkable year in 2016. I hope you and your families had a wonderful Holiday Season.
Looking forward in 2017, the Myrtle Beach Golf industry is offering some great deals. By popular demand, we are continuing to offer gift card packages where you receive either a $100, $150, or $200 gift card valid at the courses for food, beverage, merchandise, and same-day replay when you play 4 to 6 rounds at select courses. So far this year, the hottest package has been the Elite Package (Thistle, Tidewater, Prestwick, and Arrowhead) where you can save up to $50 per round for booking early and playing 3 rounds or more. The earlier you book the more you save! With the Elite Package, you also receive a Free 9 Hole Replay valid on the day of play. The Stadium Package has also been in high demand this year. Choose 3 or more rounds from Tidewater, Blackmoor, Sea Trail Jones, Sea Trail Byrd, Sea Trail Jones, and Crown Park and you will receive a hot dog, chips, snack, and a drink on each day of play at the courses. For more information, give us a call or email
Golf@PrinceResortOnline.com
.
Until next time, go play some great golf!
Scott Thrailkill,
Director of Golf - Avista Resort, Myrtle Beach SeaSide Resorts, MyrtleBeachGolf.net, and TeeUpMyrtleBeach.com.

Groups
Memorable Occassions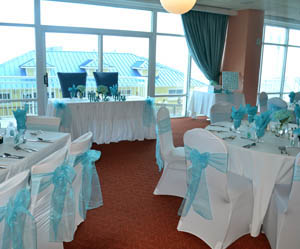 Prince Resort continues to welcome groups from all over the country and world. Last year, we had the pleasure of hosting one of our most frequent tour groups, Great Canadian Holidays. Great Canadian Holidays has been visiting North Myrtle Beach since 2008! We also continue to be a popular destination for weddings. We were delighted to have many couples celebrate their nuptials last year in our beautiful oceanfront restaurant, 3500 Ocean Grill.
We are so lucky to have an outstanding Group Sales department and would love the opportunity to help make your group's next visit to the Myrtle Beach area even more enjoyable. Our dedicated sales managers and event coordinators are here to assist you anytime, so please don't hesitate to contact us for your next event!
Call Group Sales at (843) 417-5510.
Guest Comments
"
From the moment we arrived we were treated like royalty. The front desk staff was so polite and helpful. The room was clean and well furnished. We went to the pier for happy hour and a light dinner. The bartender and waitress were very polite. The food was very good as well. We'll be back!" Michael A.

"

Our time here was short, but perfect. we had the most wonderful anniversary mini-getaway. The staff was incredible. The hotel was incredible. Thank you so much for everything! Merry Christmas!

" Cierra, Raeford NC

Click here to read more guest comments.
Fun in the Sun
Beach Travel Tips
Packing for the beach can seem like a daunting task. These tips below will make it a little easier for you.
Get to the beach early in the day: If it's going to be a beautiful day, there's nothing wrong with heading to the shore earlier rather than later. It's not usually as crowded, and although the water may seem a bit cooler than it will be at 2:30PM, it will still feel refreshing and wonderful. The sun doesn't shine as intensely in the morning either.
From the Kitchen
Winter Recipe - Winter Fruit Salad with Lemon Poppyseed Dressing

Ingredients
1/2 cup white sugar
1/2 cup lemon juice
2 teaspoons diced onion
1 teaspoon Dijon-style prepared mustard
1/2 teaspoon salt
2/3 cup vegetable oil
1 head romaine lettuce, torn into bite-size pieces
4 ounces shredded Swiss cheese
1 cup cashews
1/4 cup dried cranberries
1 apple - peeled, cored, and diced
1 pear - peeled, cored, and diced Instructions

In a blender or food processor, combine sugar, lemon juice, onion, mustard and salt. Process until well blended.
With machine still running add oil in a slow steady stream until mixture is thick and smooth.
Add poppy seeds and process just a few seconds more to mix.
In a large serving bowl combine the romaine lettuce, shredded Swiss cheese, cashews, dried cranberries, cubed apple and cubed pear.
Toss to mix then pour dressing over salad just before serving and toss to coat.