Newsletter
Myrtle Beach Events
You already know where to stay in Myrtle Beach for unmatched access to the ocean, attractions and South Carolina's best golf Prince Resort at the Cherry Grove Pier, but what about upcoming events and other insider tips for enjoying your Myrtle Beach vacation?
Don't visit Myrtle Beach without reading the Prince Resort monthly newsletter, where you'll find the latest about our seasonal specials and holiday events, find out about recent hotel upgrades and meet members of our staff. To receive the monthly Prince newsletter in your inbox, sign up here

    Fall 2014                         Vol. 5 Issue 4
Greetings from Prince Resort!
Fall is in the air in Myrtle Beach! The crowds have dwindled but the vacation fun has not. The temperatures are warm and inviting. Why not plan a fall getaway or make your reservation for one of our wonderful holiday parties by calling our wonderful vacation planners!
News from Prince Resort
A Month of Weddings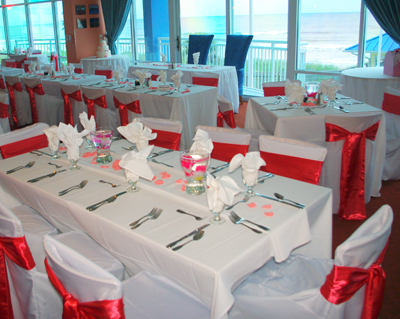 The month of September was truly the month for weddings at the Prince Resort. We are always delighted when couples choose to get married here and we enjoying being able to take part in their special day.
Our group sales department always goes above and beyond when it comes to planning weddings. If you would like to learn more about our group sales department please
Click Here
.
"We are so delighted to take part in the special day of two becoming one. We wish all of our Prince Resort wedding couples many years of happiness and blessings together." says Stephanie Chestnut, manager at Prince Resort.
Let Us Entertain You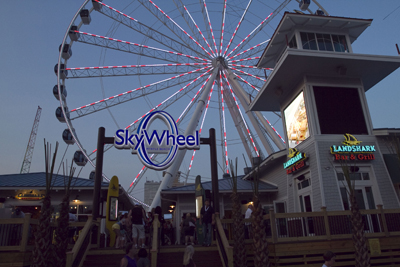 We always aim to provide our guests with the best experience possible. We now offer flat screen televisions in each living room in all of our condos.
We are also offering our Now that's Entertainment package that includes free unlimited DVD rentals,1 free complimentary adult ticket to Medieval Times, and 1 Super Passport to play miniature golf during your stay. This promotion is good through November 30th. Our Now Thats Entertainment Winter 2014 Promotion includes free unlimited DVD rentals, 1 complimentary adult ticket to the Myrtle Beach Sky Wheel, and 1 complimentary adult ticket to Ripley's Aquarium.
News From The Cherry Grove Pier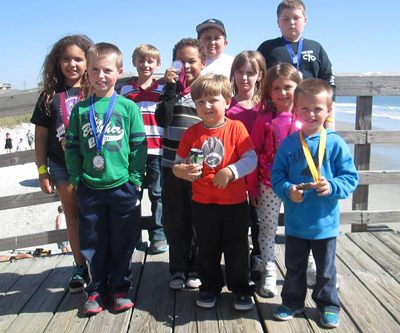 The Fall is always a very busy time for fishing on the Cherry Grove Pier. Now that we are almost through the month of October, it seems as if the fishing has really taken off this year!
The Cherry Grove Pier participated in a King Mackerel Fishing tournament this fall. We took first place with a 31 lb Mackerel caught by Shane Efird. Saturday, October 18th was the annual Take-A-Kid-Fishing Day. Much fun was had by all
If you would like to stay updated on the happenings in the Cherry Grove Pier, please
Click Here
to check out their Facebook page. Feel free to share photos of your catches with us!
Celebrate the Holidays at The Prince Resort
Thanksgiving at the beach and especially at The Prince Resort is simply amazing. Can you imagine strolling on the beach all Thanksgiving morning and not worrying if you have enough food prepared or what time the grocery store closes because you need that one extra pumpkin pie.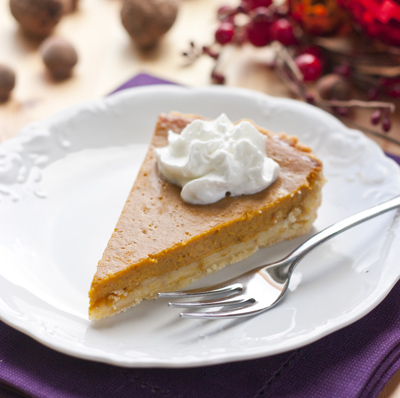 Why not spend Thanksgiving with us and we will provide the feast for all. Then that night you will be able to take advantage of all the wonderful Black Friday Shopping that our area offers! Make your reservation soon and don't forget to reserve a seat at our Thanksgiving feast! Please
Click Here
to check out our Thanksgiving menu. Please
Click Here
to learn more about our accomodations packages.
We are also hosting a fun New Year's Eve Dinner and party. To view our delicious New Years Eve Menu, please
Click Here
. Don't forget to check out our accommodations packages by
Clicking Here
.
News from the Beach
Myrtle Beach's Best Kept Local Secrets
There are many more things to do in Myrtle Beach than just sunbathe at the beach or by the pool. The following activities are all local favorites and chances are - you won't see them advertised all over town. However, you will have a great time and can brag to all of your friends about how you had all the insider's info on your trip to the beach!
10. Vereen Gardens (Little River)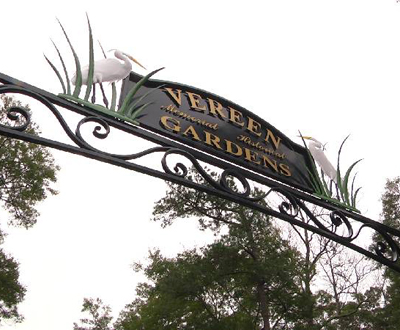 Vereen Gardens, deeded to the Horry County Historical Commission by Jackson Vereen, is home to a variety of wildlife, as well as the historic Vereen Family cemetery, which pre-dates the Revolutionary War. Hiking trails line the park and the scenic marshes. Also, one of the last few unpaved stretches of King's Highway goes through Vereen Memorial Gardens. For more information, please
click here
.
9. Hawaiian Rumble Mini Golf (North Myrtle Beach)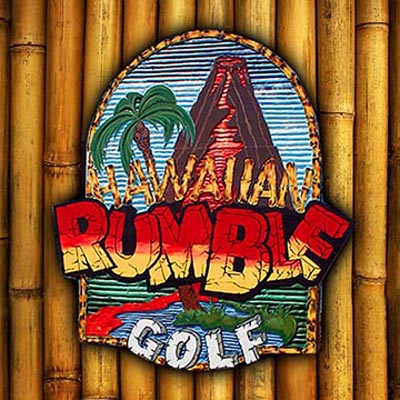 Myrtle Beach is well-known for its infatuation with miniature golf, so it's only fitting that the area is host to one of the most prestigious comepetitions in the country. Taking place each October, is the Master's National Tournament Pro Mini Golf Championship - the national championship for mini golf. Golfers from all over the country compete for cash and prizes. The course has one-of-a-kind landscaping and a volcano that erupts every twenty minutes. Along with the volcano, you are surrounded by the serene souund of the waterfalls with music from Jimmy Buffet!
Click Here
for more information about Hawaiian Rumble Miniature Golf
8. La Belle Amie (Little River)
La Belle Amie Vineyard is open to the public and hosts many popular festivals throughout the year. Vineyard guests are invited to the wine tasting room to sample their private label wines and a variety of specialty sauces, dressings, mustards and more. The vineyard is part of an old tobacco plantation that has been owned by the Bellamy family since the 1800s. Vineyard specials include Wine Wednesday, Wine Down Friday, or Super Wine Saturday. For more information about La Belle Amie and a schedule of events, please
click here
.
7. Sailing With Island Song Charters
Island Song Charters will take you on a sailing adventure where you will get to experience the beautiful Intracoastal Waterway, setting sail in the calm and protected waters of the Little River Inlet, then continuing your voyage into the Atlantic Ocean. Take a turn at the helm - steering the boat or just sit back and relax. Each charter is private and depending on your adventure, can accomodate up to six guests. Complimentary chips, crackers, sodas, bottled waters, and ice are available. Or you may bring your own food, beverages and adult beverages. For more information about Island Song Charters, please
click here
.
6. L.W. Paul Living History Farm (Conway)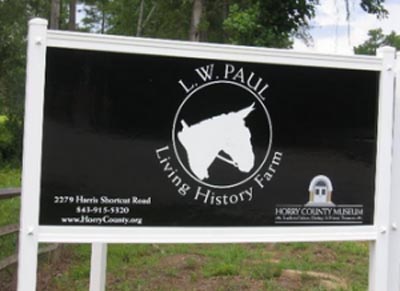 Visitors to the L. W. Paul Living History Farm will have the opportunity to sample the everyday life of farm living in Horry County between 1900 and 1955. Guests on this working farm can observe and participate in activities that would have been commonplace on traditional family farms. Plowing with mules, making lye soap, grinding grits, blacksmithing, curing meat, preserving vegetables, milking cows, and harvesting crops are only a few hands-on activities that the farm offers. Events at the farm change with the seasons. Please
click here
for more information.
5. Visit the Sea Lions at Pirate's Voyage (Myrtle Beach)
Located just outside the Pirate's Voyage Theater, there is an area where you can get up close and personal with the show's stars - the sea lions - and watch them splash around - for free. You may even find yourself making reservations to see them perform in one of their nightly shows. Depending on the time of the year, you may also be able to visit some of the show's other star animals in pens closeby.
Click here
for more information about Pirates Voyage and to Purchase Tickets.
4. Tour New South Brewery (Myrtle Beach)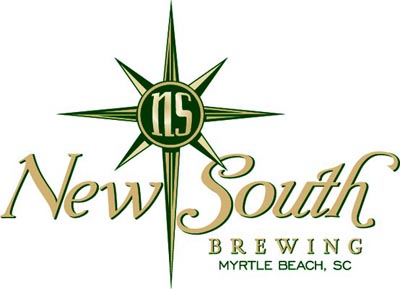 It doesn't get much more hidden than this local gem - just a stones throw from downtown Myrtle Beach. There's plenty of local bars and restaurants that serve their excellent brews - including its Nut Brown Ale, Dark Star Porter, and popular White Ale. But to get a full taste of what New South Brewery is about, why not take a brewery tour? New South offers tours and tastings on Tuesdays and Thursdays at 4:30 pm. Stay after your tour and drink a few pints on premise and get some growlers filled to bring back to your room.
Click here
for more information about New South Brewery
3. Learn How to Shag (North Myrtle Beach)
The Shag is the official state dance of South Carolina. Combined with the region's Carolina Beach Music, it has created a culture all its own - with thousands of shaggers visiting the area each year. Though you may not realize it, Main Street in North Myrtle Beach serves as the epicenter of this culture worldwide. Boasting a number of bars, dance clubs, and other businesses who cater to the crowds who love that laid-back shagger lifestyle. Perhaps the most well known of these clubs is Fat Harolds Beach Club, where you can take shag lessons twice a week. For more information,
click here
.
2. Sleep with the Sharks at Ripley's Aquarium (Myrtle Beach)
Do sharks sleep? Find out for yourself at Ripley's Aquarium!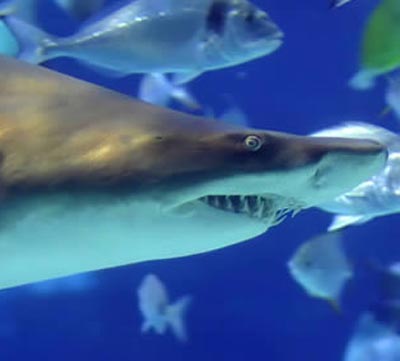 You can count sharks instead of sheep while drifting off to sleep as you spend the night in Ripley's Aquarium Dangerous Reef Tunnel. Unlock the mysteries of the aquarium at night through learning activities that are designed for all ages to enjoy. Enjoy a fun-filled night including a dive show, behind the scenes tour and creature feature scavenger hunt. After you are exhausted from all of these fun activities, drift off to sleep while the sharks keep a watchful eye on you. Other sleepovers such as Midnight Mermaids and Night at The Aquarium are also available. For more information about Sleeping With the Sharks,
please
click here
.
1. Brookgreen Gardens (Murrells Inlet)

Brookgreen Gardens used to be a true "hidden gem" of the Grand Strand, but the word has gotten out about this local treasure. Luckily, there is so much to do that you can find a new "best-kept" secret each time you visit. Enjoy a stroll through America's Largest outdoor sculpture garden, visit wildlife in the Lowcountry Zoo, or experience the season change during Harvest Home Weekend - and that's just a small part of the fun to be had! For more information about Brookgreen Gardens, please
click here
.
Myrtle Beach Pelicans News
Back in September, the Myrtle Beach Pelicans announced that they are changing their franchise affiliation - they are now the farm team for the Chicago Cubs!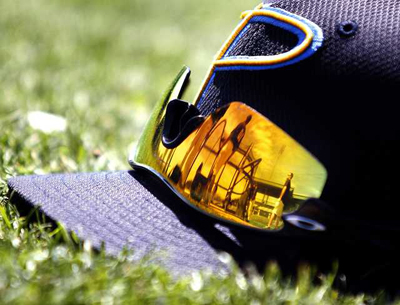 The Pelicans were affiliated with the Texas Rangers from 2010-2014. Before then, they were associated with the Atlanta Braves. The Cubs organization is excited about the new arrangement, as well as getting the chance to enjoy our wonderful and mild Carolina weather.
According to Pelicans General Manager and Vice President, Andy Milovich, "The Chicago Cubs present an incredible partnership in every aspect. The Cubs strengthen the Pelican's brand in a way that few, if any other major league franchise could. Cubs fans can now visit their furture stars in one of the most iconic vacation destination spots in the US. For more information about the Myrtle Beach Pelicans, please
click here
.
From The Golf Desk
The Myrtle Beach golf industry is making changes in order to provide its golfers with the best rates possible. In past years, our rates have been what is known as static rates. These rates would be valid for specific date ranges and would not change. This is no longer the case for many area courses. The new rates will be constantly changing. As the courses fill up, the more expensive a round of golf will be.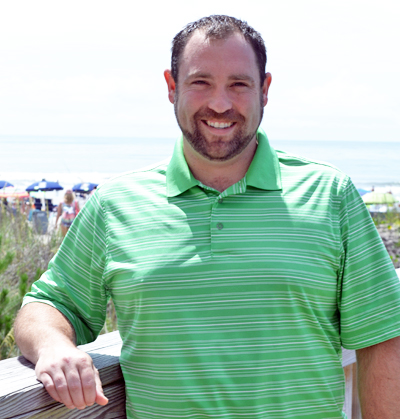 Because of this, we recommend that you book your golf between 3 and 5 months in advance. With these varying rates, we will be able to hold your prices for no more than 14 days - so getting information out to your groups quickly will be very important. We recommend that when you are booking a package, booking all of the tee times as well - to ensure that everyone is getting the same low rate.
The spring rates are out and now we have two golf management groups giving away gift cards when you play 4 or more of their courses. One group has even
upped the gift card to $150 per golfer, for playing at least 5 of their courses - and the card is even valid for same day replays.
Winter Golf Deal
Stay 4 Nights and 4 play rounds at Legend's Heathland, Legend's Moorland, Legend's Parkland and Oyster Bay for under $300 per golfer. Package includes: breakfast, lunch, 2 beers each day, plus a prime rib dinner at Shoreline Cafe! For more information or to book this package please call 1-800-682-5699 ext. 5522
Floyd Bellamy | Short Order Cook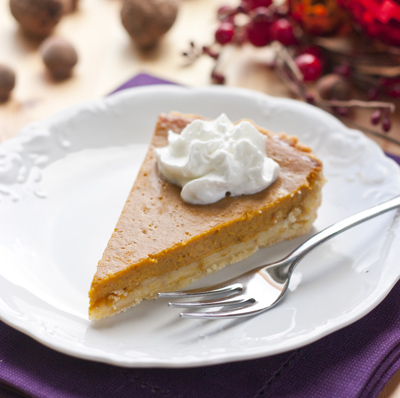 Our featured employee for Fall 2014 is Floyd Bellamy. Floyd works in 3500 Ocean Grill as a short order cook.
Floyd has been with our company for the past 8 years. Floyd enjoys spending time with his family. He has three children and six grand children.
One of his favorite pastimes is watching sports. Floyd especially enjoys cheering on the SanFrancisco 49ers. He likes to kick back and relax with a little fishing when he is not at work
Floyd has been a team player since the beginning. He always has a smile on his face and puts a smile on the faces of those around him. "It is a pleasure to work with him daily." says Stephanie Chestnut, manager at The Prince Resort, "I look forward to working with him for many years to come.
Groups
"We were down for a wedding party that consisted of about 75 guests. The staff was ready to help for all "problems" that would arise. The rooms were clean and the view is unbelievable! The pier is connected to the resort (but an additional fee is required to enter the pier). The food in the restaurant is great and the bartenders do a great job. Would recommend for a family trip. Be advised that the rooms across the street do have an ocean view also."
Barbara Carver (Boston, MA)
Groups of all types and sizes have enjoyed our packages, including church, sports, and all wedding groups to name a few. We can make your groups' next visit to the Myrtle Beach area even more enjoyable!
Our dedicated sales managers and event coordinators are here to assist you anytime so please don't hesitate to contact us for your next event!
Call Group Sales at (843) 417-5510.
Guest Comments
"My boyfriend and I, who are in our mid 30s, stayed here last year and we had a great experience, which is why we wanted to go back for our late summer vacation again this year. The beach here is beautiful and this time of year isn't crowded at all. We prefer to stay on North Myrtle where it tends to be more relaxed and it's just a short drive from Myrtle proper. This time we had an upgraded room with nice appliances and flat screen TVs. We like being able to cook if we want and this time we actually ate several meals in the room. The kitchen had all the key items you need to cook. The room was clean and the staff was helpful and friendly. We really like this location. Bad: You can sometimes hear other patrons next door and in the room above. It's not real loud, but is noticeable. The parking is across the street which may not be the most convenient for some people. Also the furniture in the living room isn't the most comfortable. In general though we like this property and will probably do a 3rd trip again next September." Anonymous (United States) via Booking.com

"Our family vacations here every year and we love the Prince! The staff is very nice and the rooms are clean and spacious. We opted not to have housekeeping come in, but they still stopped by every day to make sure we had towels and toiletries. The Prince is conveniently located close enough to all the attractions, yet far enough from the "busy" area of Myrtle so you can enjoy a nice day on the beach without the crowds. We had a family with 3 couples and loved each having our own room and bathroom. Having in-suite laundry was also very convenient. Our only complaint was being close to the elevators, the family members staying in the back room could hear the beeping of the elevator all night, but it's a small price to pay for the great ocean views. We can't wait to come back!" Michelle K (Harrisonburg, VA) via TripAdvisor

Click here to read more guest comments.
Fun in the Sun
Hotel Humor
Working in a Resort, we often get asked questions that are truly headscratchers! We have reached the conclusion that some guests are so excited to get to the beach that they get confused
Guest:
Have you had a brown purse turned into your lost and found?
Front Desk:
Give me just one second and I'll go back and see about that for you.
Guest:
Can you make it quick? I really don't have the time.
(Front desk agent looks in a back office for the purse in the lost and found items and it is not there)
Front Desk:
Ma'am, I see no purses back there resembling the one that you have described. You can fill out a lost item report and someone will call you if the item shows up.
Guest:
I do not want to fill out a report! This is ridiculous! Let me see if it is back there!
(Customer Charges back behind the desks, heading straight for the office)
Front Desk:
Ma'am, you're not allowed back there!
(a manager sees what is going on and walks over)
Manager:
Ma'am, I can assure you. If one of my employees didn't see your purse back there, it isn't there!
Guest:
This is ridiculous! Let me go back there!
Manager:
Ma'am,could you give us a description of the purse?
Customer:
Oh My God! It's brown, and has one strap. It's Coach. It has an iPhone, a Coach wallet, and a makeup bag inside of it!
Manager:
Does it resemble the purse hanging off of your shoulder?
Guest:
You planted it on me while I wasn't looking! you are going to steal it if I hadn't come back here!
Monthly Recipe - Pumpkin Pie Dip
5 oz box of vanilla instant pudding mix
1/2 tbsp Pumpkin Pie Spice
Mix the vanilla pudding mix, pumpkin pie spice, andcinnamon unit well blended and then fold in the whipped topping and mix until creamy and smooth.
Chill for 2-3 hours before serving.
Serve with graham crackers or apples.