News from Prince Resort
Renovations Bring Style, Comfort, and New Color to Accommodations
We strive to provide the most inviting accommodations on the beach. That's why when you check in at Prince Resort you will notice quite a few upgrades and renovations in many of our condominiums.
All of our rooms are getting a fresh new coat of paint. You'll love the relaxing yet stylish gray shades and new accent colors. Many of our units have been up-fitted with new drapes and modern, beige bedspreads.
We know you love dining at 3500 Ocean Grill and grabbing a bite at the Boardwalk Beach Cafe, but if you spend any time in your fully-equipped kitchen you will enjoy the new granite counter tops we've installed in several condominiums.
Clean, stylish, and comfortable accommodations await you at Prince Resort. Shouldn't your next beach vacation be beautiful inside and out?
Snowbird Activities Abound at Prince
Every year, Prince Resort welcomes snowbirds from across the east coast to spend the fall and winter months with us. Our snowbirds love the mild Carolina winters and numerous social events that bring many friends, both new and old, together.
Bingo, coffee socials, cook-offs, dessert sampling, and recipe sharing are some of the events our snowbirds enjoy year after year. When it comes to games, we put on a friendly competition of Family Feud between our Prince Resort and Avista Resort monthly guests. Group outings to nearby attractions are also popular among our monthly guests.
Each month our snowbirds join together with our staff to participate in a community service project. In December, we gathered goodies and toiletries to make care packages for soldiers overseas. Our snowbirds enjoyed writing letters to show their support for our troops. We were honored to receive a response from the troops with a letter and pictures of soldiers enjoying their care packages.
Join in on the fun, meet new friends, and make the Prince Resort your fall or winter home.
View our special monthly rates
.
News from the Cherry Grove Pier
Cherry Grove Pier improvements are underway this winter. New handrails, along with new benches, have been installed along the 985-foot pier. New paint and improvements are evident at the tackle shop. Some floor displays at the tackle shop have been rearranged for our shopper's convenience, as well.
If you are looking for fewer crowds and want to enjoy quiet fishing, winter is a good time to check out the pier. Shrimp, crab, squid, and synthetics usually work well as bait in the colder months. Water temperatures average in the mid-50's during the winter with juvenile whiting, croakers, silver perch, and red and black drum fish among the varieties that are biting this time of year.
Spring, summer, and fall offer more fishing opportunities and attract larger crowds. As the water temperatures rise, the likelihood of larger catches increases and the variety grows.
Prince Resort Photo Contests
Thank you to everyone who participated in our "Coastal Adventures at Prince Resort" photo contest. We enjoyed viewing all of the great vacation photos that were submitted.
Kevin W. has been selected as winner of our "My Coastal Adventure" photo contest! His beautiful picture captured a treasured family moment shared between mother and son. Runners up include Olivia B. and Susan E. Congratulations to the photographers of these beautiful photos!
We are excited to announce our new photo contest, "The Prince Resort Experience" which will run through June 8, 2018. The 1st place winner will receive a $300 resort credit and two runners up will receive a $100 resort credit each!
Submit your photo
or
view the contest gallery
.
Farewell and Good Wishes to Al & Nancy Leska
In November, we bid farewell to our friends and employees Al and Nancy Leska with a celebration at Just Off Main at our sister property Avista Resort.
Nancy served as Assistant Director of Sales for the Prince Resort and Avista Resort prior to her retirement. Her husband, Al Leska, worked at Prince as a Bellman and kept watch of the oceanfront parking by the Cherry Grove Pier in the summer months.
The couple had more than 10 years of experience with the Myrtle Beach Seaside Resorts family.
We wish them the best as they return to their hometown in Pittsburg, Pennsylvannia. They will be greatly missed.
Meet Star Agent Michelle Terry
It takes more than a beautiful beach and inviting property to make Prince Resort a top vacation destination along the Grand Strand. Our guests are always a priority and top employees like Michelle Terry offer quality customer service and genuine hospitality before they even become guests.
The Star Agent for 2017 is no stranger to the top-performing role in our reservations department. Michelle got her start with the company five years ago and has twice earned the prestigious title.
"I'm very excited," Michelle says, adding that everyone in the reservations department deserves recognition. "All of them work hard. I love them and they are good to work with."
Michelle thrives in the upbeat and friendly environment. She enjoys working with people and puts her outgoing personality, good listening skills, and positive attitude to work every day.
"It's rewarding to help guests take the first step toward planning vacations of a lifetime," she says, "I'm always ready to help them get what they want."

News from the Beach
Wings Over Myrtle Beach Air Show
The Wings Over Myrtle Beach Air Show is to be hosted on April 28-29, 2018 at the Myrtle Beach International Airport.
The first air show for the Myrtle Beach area in over a decade will feature the Blue Angels, who will perform in the gold-and-blue F-18 Hornets. Additional performers include the USAF F-16 Viper Demo Team, USSOCOM Para-Commandos Parachute Jump Team, GEICO Skytypers Air Show Team, and more. There will also be a Veteran's Parade of Honor to show respect to those that served America.
For more information, visit
www.wingsovermyrtlebeach.com
.
From The Golf Desk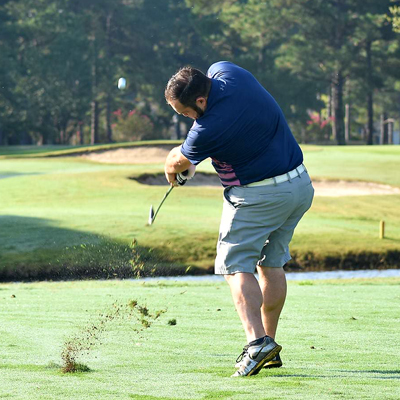 I would like to thank everyone for a great 2017. Your business and loyalty is greatly appreciated by all of us here at Prince Resort.
Our golf team strives to give you the best service in the Myrtle Beach area. As the golf market changes, we are here with you every step of the way to ensure your golf trip is everything you want it to be.
As the majority of golf courses in the area move to dynamic pricing models, we are here to help make things easy for you. Put our expertise to work for you in booking tee times only or full packages with accommodations in the price range you need. With prices constantly changing and dependent upon demand, we are here to identify the best deals for you. Our knowledge of new technology and pricing models allows us to help you take advantage of more options. Get the best tee times at better courses in a lower price range then you might expect.
Our golf department is growing to meet your needs. Our newest team member, Dave Walker, joined our team January 16th and brings more than 20 years of experience in the Myrtle Beach Golf industry.
Don't forget, the earlier you book, the lower the rates will be! Book for just $100 down. Plus, you can always change a course or two if needed!
We wish you the best of luck on the green and lots of good times at the beach.
From all of us in the Golf Department,
Scott Thrailkill, Kathy Phillips, Don Herlocker, and Dave Walker
Guest Comments
"
The room was very spacious and clean. The bathroom had plenty of room - loved that it had two ways for entry. The workout rooms were great. Being across the street was great because that's where the parking deck was and our room had a ocean front view because there were no buildings blocking the view. Was definitely a condo rather than a room."
Kay W., 1/13/18 after a 3 night stay

"

I loved my room. It was spacious, very clean and comfortable. The maid, Kimberly, did an excellent job. She was also helpful and very friendly. The view from my room was really great too. Prince Resort at the Cherry Grove Pier is a great place to stay.

"
Mary P., 12/27/17 after a 5 night stay

Read more guest comments.
Fun in the Sun
There is never a lack of fun things to see and do in the Myrtle Beach area. Below are some tips to help you have the best Myrtle Beach vacation possible!
Get to the beach early in the day: If it's going to be a beautiful day, there's nothing wrong with heading to the shore earlier rather than later. It's not usually as crowded, and although the water may seem a bit cooler than it will be at 2:30PM, it will still feel refreshing and wonderful. The sun doesn't shine as intensely in the morning either. Afterward, you'll have plenty of time to move inside to the indoor pools for a break from the sun!
Check out at least one sunrise: One of the best parts about being on vacation is not waking up by an alarm clock. However, make sure to set an alarm at least once during your trip so you can get up early to see the sunrise over the ocean. It will surely be a sight you won't forgot. Early morning is also the perfect time to look for shells or take a peaceful stroll down the beach before the crowds arrive for the day.
Winter Recipe
Game Day Chili
Ingredients
1 pound ground beef
3/4 cup diced onion
3/4 cup diced celery
3/4 cup diced green bell pepper
2 cloves garlic, minced
2 10.75 ounce cans tomato puree
1 15 ounce can kidney beans with liquid
1 15 ounce can kidney beans, drained
1 15 ounce can cannellini beans with liquid
1/2 tablespoon chili powder
1/2 teaspoon dried parsley
1 teaspoon dried parsley
1 teaspoon salt
3/4 teaspoon dried basil
3/4 teaspoon dried oregano
1/4 teaspoon ground black pepper
1/8 teaspoon hot sauce
Instructions
Place the beef in a skillet over medium heat. Cook until evenly brown. Drain grease.
Place the beef in a slow cooker. Mix in onion, celery, green bell pepper, garlic, tomato puree, kidney beans, and cannellini beans. Season with chili powder, parsley, salt, basil, oregano, black pepper, and hot sauce.
Cover and cook on low for 8 hours.