Summer 2018 Vol. 9 Issue 3
Greetings from Prince Resort!
Summer weather has arrived, bringing an influx of tourists and visitors to the Myrtle Beach area. Families and friends come to the area to experience festivals, attractions and of course, the beach! Many golfers visit to experience the hundreds of golf courses in the area.
Beyond the summer tourist season, we look forward to Carolina Soulfest, hosted annually by Community Movement Alliance, Inc. just over the South Carolina State line in Calabash. This is a family friendly event, held on Saturday September 15, 2018 and features live music, food trucks and a pooch parade and canine costume contest.
Now is also the perfect time to start planning your beach vacation. The earlier you book, the more you save! To make your reservation at Prince Resort, check our rates online or call our vacation planners at 1-877-619-5635.
News from Prince Resort
Independence Day at Prince
Prince Resort started its 4th of July celebration with patriotic children's activities.
Guests enjoyed a corn hole tournament in addition to the "Salute to the Shore" flyover.The resort also had its annual "Patriotic Dinner" at their onsite restaurant "3500 Ocean Grill".
The dinner included: St. Louis style BBQ ribs, low country chicken bog with smoked sausage, southern potato salad, super sweet corn, collared greens, baked beans, fried okra, dinner rolls, banana pudding and iced tea.
The tradition continued as the annual fireworks show was set off from the Cherry Grove Pier.
Guests enjoyed a 30-minute fireworks display that could be seen from miles away.
Employees and guests alike thoroughly enjoyed this day.
Make plans to join us for the festivities next summer!
Children's Activities
Children are having a blast participating in the Children's Activities at Prince Resort.
When the little ones join the group they can participate in numerous fun filled activities specially planned for them. Kids can kick off the fun Monday through Friday until Labor Day.
The following activities are being offered:
Monday:
Make sun catchers, play poolside bingo, enjoy slime time and take photos with a pirate
Tuesday:
Compete in a cornhole tournament, participate in duck races, make hand and footprint paints and enjoy movie time
Wednesday:
Make sand art, compete in a water balloon tournament, create a DIY lava lamp, participate in a scavenger hunt and join an ice cream party
Thursday:
Get glitter tattoos, make tie dye shirts, play poolside bingo and make s'mores
Friday:
Join us for slime time, make a handprint t-shirt and enjoy an ice cream karaoke dance party
All children are welcome to participate in the Children's Activities. Adults can sign children up to join the fun in the main lobby.
Clowning Around for a Cause
On Thursday May 24, 2018 Prince Resort raised money for Red Nose Day. Red Nose Day is a campaign dedicated to raising money for children and young people living in poverty by simply having fun and making people laugh.

According to Comic Relief USA, "Every year, thousands across America buy Red Noses at Walgreens and go Nose to Nose to raise awareness and funds to help children in need. Then, in late May, the nation comes together to wear our Red Noses and tune into NBC for a special night of prime-time programming celebrating Red Nose Day."

Prince employees paid to wear casual to work on Red Nose Day. Proceeds raised during the dress down day were donated to the Red Nose Day Campaign. Prince Resort raised $60 to donate to the cause.


News from the Cherry Grove Pier
Fishing season is in full swing and fish are biting!
Children and adults alike are enjoying testing their fishing skills on the Cherry Grove Pier. Each Monday the pier offers a special called
"Take A Kid Fishing,"
where one child is free per paying adult.
Adults are enjoying refreshing frozen cocktails at the pier's onsite restaurant Boardwalk Beach Cafe.
Families are enjoying ice cream after a long day in the sun at Scoops Ice Cream Shop, located on the side of Boardwalk Beach Cafe. The ice cream shop offers a variety of ice cream and milkshake flavors to help fishers cool off after a day of fun in the sun! The pier's personal favorite ice cream flavor is Krazy Kookie Dough!
Check out the fishing report for the most up-to-date information on what is biting at the pier.
Make sure to view the report periodically to see what we are catching.

News from the Beach
Carolina Soulfest
Carolina Soulfest is a day of engagement, education, entertainment, and empowerment designed to help people make choices to become their healthiest selves.
The festival focuses on the health and wellness needs of families. Attendees will learn about nutrition, fitness, green living, therapeutic benefits of art and more.
The Carolina Soul Festival will host a variety of vendors who will offer health and wellness information from local medical professionals, fitness demos, a children's obstacle course, product demonstrations along with arts and crafts.
Festival attendees will be able to sample and purchase products for skin care, gardening and pets. Vendors will be selling a variety of health and wellness products including jewelry, clothing, kombucha, paddle boards, art and more!
The festival will be held on Saturday September 15, 2018 besides Movement Works, located at 9480 Ocean Highway West, Calabash, NC 28467.
For more information, visit CarolinaSoulFestival.com.
From The Golf Desk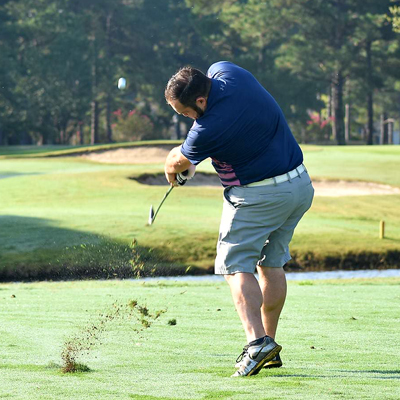 Summer is in full swing, but fall is just a chip shot away! There is still time to think about booking your fall golf package.
Choose from a variety of special golf packages and rates.
With dynamic pricing the courses have implemented along with extra perks and bonuses, the earlier you book the better the price and the better the tee times will be. Tee times are at a premium right now so don't delay.
Whether it's for fall, winter, or getting a head start on the spring season, we have the package just for you.
Packages can be booked for just $100 down.
We also offer 48 hour specials on golf for last minute tee time bookings.
Our great golf team consisting of 3 golf experts have over 50 years of combined experience. They are more than happy to assist you with booking tee times only or full packages with accommodations and golf to fit any of your needs or budget.
We wish you a wonderful summer and hope to see you in the fall!
From all of us in the Golf Department,
Kathy Phillips, Don Herlocker, and Dave Walker
Guest Comments
"
Our room was perfect and as always the staff at Prince Resort were friendly and always willing to assist us in anyway necessary.. especially with our special needs child. We will continue to come back for our family vacations!"
Michele S., 7/15/18 after a 5 night stay

"

The Prince Resort's location is so convenient to everything in North Myrtle. We were able to just walk out of the hotel and onto the Cherry Grove Pier. The July 4th fireworks display from this pier was fabulous! What great memories we made during our stay at this resort.

"
Rita H., 7/08/18 after a 4 night stay

Read more guest comments.
Fun in the Sun
There is never a lack of fun things to see and do in the Myrtle Beach area.
Below are some tips to help you have the best Myrtle Beach vacation possible!
Seashell Hunting Tips
Plan your search around the tides, and start searching during the day's first low tide where the wet and dry sand meet.
If you are trying to catch large shells the water's edge is ideal because these shells are often too heavy for the tide to bring in.
Try getting to the beach immediately after a storm, you will increase your chances of spotting an unbroken shell the storm has kicked up.
Never take a live shell, sea urchin or sand dollar from the beach. Dead sand dollars are white and smooth without any hair, while live ones are brown and covered with short hairs. Many other shells, including whelks and the lettered olive, may have live inhabitants hiding inside. If you're in doubt, don't take the shell!