Greetings from Prince Resort!
Fall weather has arrived, and tourists and visitors are coming to the North Myrtle Beach area to enjoy the mild temperatures and warmth of the season. Families and friends come to the area to experience festivals, attractions and of course, the beach! Many golfers visit to experience the numerous golf courses the area has to offer. Continue reading to see all the fun Prince has planned for snowbirds and Thanksgiving!
Our room rates have now been released through 2019! To make your reservation at Prince Resort, check our rates online or call our vacation planners at 1-877-619-5635.
News from Prince Resort
Hurricane Florence Relief
Prince Resort recovered quickly after Hurricane Florence. The impact on our coastal areas was minimal. Just days after the storm, the resort returned to full operation and welcomed vacationers to North Myrtle Beach's beautiful beaches.
WMBF News, a local affiliate of NBC News, states, "Most of Florence's destruction in Horry county came from the flooding of the Waccamaw and Little Pee Dee rivers. The Waccamaw reached record heights and the Little Pee Dee inundated homes along the county's western and southern borders."
Prince Resort is working to provide relief to people who have been affected by Hurricane Florence. Join these efforts and make a donation to help those impacted in the Carolinas, including Prince's employees.
"Horry County officials say that the catastrophic storm
caused more than $40 million in damage to homes and business in the area," according to a WMBF news article.
The resort is collecting deodorant, soap, shampoo, feminine products, razors and lotion to donate to The American Red Cross and local shelters.
On Thursday October 10, 2018 Stephanie Chestnut, general Manager, David Sides, director of engineering and Suzanne Fair, executive assistant boxed supplies at the North Myrtle Beach Rotary Club to distribute to those impacted by the storm.
Donors may drop off items at Prince Resort. Donations can be submitted in the donation box at the front desk or given directly to front desk personnel.
Employee Spotlight: Kathryn Covington
Prince Resort has a new addition to its great team! Kathryn Covington joined the Prince team this fall as a group sales manager.
Covington said, "I love the team of ladies I work with. It's a pleasure to see them first thing every morning. They have all been so welcoming and helpful."
Covington recalls working after Hurricane Florence, "Immediately following the hurricane, I received a call from a planner for Duke Energy. They needed lots of beds for emergency crews who were working to get power restored to our neighboring communities in North and South Carolina. I was incredibly impressed with how so many of our people from various departments and multiple resorts worked as a team to accommodate these workers. It was great to be a part of that."
Covington moved to North Myrtle Beach, South Carolina from Fayetteville, North Carolina. She planned to retire at the coast, but said, "I'll probably never retire, so why wait to be happy?"
Covington's previous work experience includes event sales, retail management and membership retention.
During her free time Covington enjoys playing the piano, reading, painting and spending time with her family, friends and dog.
Join Prince Resort in welcoming Covington to their family!
Monthly Activities
Snowbirds will have an amazing time participating in activities at Prince Resort.
Guests can enjoy numerous fun and relaxing activities specially planned for them.
Snowbird activity ambassadors lead in planning events during the fall and winter. They plan activities that they know will be enjoyable for all who attend. Their goal is to create an environment that encourages engagement and priceless memorable moments.
Visitors can engage in activities every month between November and March. Some of the snowbird activities will include:
Bingo
Wine Events
Craft Events
Potluck Breakfasts and Dinners
Holiday Parties
Game Days
All of our adult guests are invited to participate in monthly activities. The resort looks forward to hosting and entertaining this year's snowbird visitors.

Thanksgiving at Prince
Prince Resort invites you to enjoy Thanksgiving dinner at the beach this year. 3500 Ocean Grill, Prince's onsite restaurant, will host a traditional Thanksgiving buffet on November 22, 2018 from 11:00am to 4:00pm.

The feast will include: a salad bar, butternut squash soup, slow roasted turkey, glazed Virginia ham, carved roast beef, roasted vegetable medley, baked macaroni and cheese, mashed potaoes and gravy, green bean casserole, cornbread dressing, cranberry sauce and rolls and butter. End your tasty meal with pecan pie, carrot cake, pumpkin pie and sweet potato pie.


Call Prince Resort at 844-496-6231 to make your reservations today. Adults are $24 each plus tax and gratuity, children ages 4 through 7 are $14 each plus tax and gratuity, and children 3 years old and under are free.



News from the Cherry Grove Pier
After the passing of Hurricane Florence, water temperatures remained in the low 80's.
Flounder, Whiting, Black Drum, Red Drum, Croakers, Spanish and Bluefish were seen and biting. In addition to that, a number of Pompano and King Mackerel were spotted. Not only that, Flounder landed.
The Myrtle Beach Chamber King Mackerel Tournament was held October 6, 2018 and October 7, 2018. Three Kings were caught but sadly, none were caught off the Cherry Grove Pier.
The Mike Hilton Memorial King Mackerel Tournament was held on October 13, 2018 and October 14, 2018. Daniel Locklear was the proud winner of the tournament with a catch weighing in at 41 pounds and 6 ounces.

News from the Beach
Featured Attraction: The Alabama Theatre
Be delighted by the dazzle of Las Vegas and New York in North Myrtle Beach.
The Alabama Theatre in North Myrtle Beach offers area visitors an evening of entertainment with their production of "ONE: The Show." The whole family will enjoy a variety of music including Broadway tunes, big screen classics, country, gospel, rock and pop. Enjoy extravagant costumes and scenery while being entertained by the elaborate moves of world class dancers. Ricky Mockel, Alabama Theatre's comedian, is sure to provide plenty of laughter!
Beginning in November and running through the end of December, "The South's Grandest Christmas Show" blends contemporary and traditional Christmas music in an authentic expression of the season. The show includes sounds of the season and light-hearted humor for the holidays.
The Alabama Theatre is conveniently located 7 miles from Prince Resort.
From The Golf Desk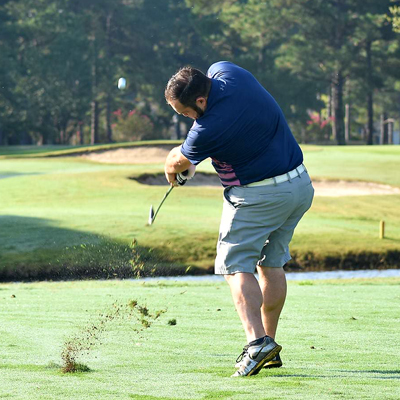 Fall is in the air! What a great time to book a golf package for you and your friends. Good tee times are still available and the courses are in great shape!

Hurricanes Florence and Michael blew their way through the Grand Strand in September leaving minor damage in their wake. The majority of the courses received little to no damage at all, while others suffered just some superficial wounds. Everything is now up and running in Myrtle Beach and the fall weather is perfect for golfing.
Whether you are still thinking of coming this fall or contemplating a spring package, the quicker you book the better your price will be. Rooms are going quickly as are the premium tee times. With several amazing packages to choose from, many with added perks, we can tailor a package to fit any budget. Pick a date and give us a call. Our knowledgeable golf department will make every effort to get you the best package at the best price.
Have a wonderful holiday season and stay out of the bunkers!
From all of us in the Golf Department,
Kathy Phillips, Don Herlocker, and Dave Walker
Guest Comments
"
You really do have the best staff! I stayed twice this fall and will definitely keep coming back! Beautiful and quick easy access to the beach and Cherry Grove Pier. The sunrises and sunsets are the best!"
Ellen, 10/22/18 after a 3 night stay

"

Knowing that my needs would be taken care of, on site, and I wouldn't have to call a realty company and wait for them to contact a maintenance man that works for them. Being right at the pier was awesome and our room was exceptional. I especially loved having daily service for towels and removing trash and not having to clean at the end of our stay (with no cleaning charge added!)

"
Janet, 10/18/18 after a 4 night stay

Read more guest comments.
Country Apple Dumplings
Ingredients
2 large Granny Smith apples, peeled and cored
2 (10 ounce) cans refrigerated crescent roll dough
1 cup butter
1 1/2 cups white sugar
1 teaspoon ground cinnamon
1 (12 fluid ounce) can or bottle of citrus flavored soda
Directions
1. Preheat the oven to 350 degrees F. Grease a 9x13 inch baking dish.
2. Cut each apple into 8 wedges and set aside. Separate the crescent roll dough into triangles. Roll each apple wdge in crescent roll dough starting at the smallest end. Pinch to seal and place in the baking dish.
3. Melt butter in a small saucepan and stir in the sugar and cinnamon. Pour over the apple dumplings. Pour citrus flavored soda over the dumplings.
4. Bake for 35 to 45 minutes in the preheated oven, or until golden brown.