It was 2:05 pm on September 30th.
Usually during late September at the beach, it's absolute paradise. The scorching sun of the summer has departed, making way for cool breezes, beautiful days, and temps in the upper 70's. It's the time of year locals and many travelers look forward to the most with low crowds and relaxation. This day, however was NOT relaxing.
Hurricane Ian made landfall at Georgetown and shortly after, a small middle-section of the historic and beloved Cherry Grove Pier was destroyed. Perhaps an overdue toll for defying Poseidon for so many years…
Luckily, this was the only significant damage to the area around Prince Resort and Hurricane Ian and his insult swept their way out of our area quickly. Fast forward almost 3 months and the Cherry Grove Pier is on its way back – better than ever! Aiming for a partial re-open in March 2023 and a prospective fully open date in May '23, The Cherry Grove Pier will continue to be the most iconic landmark in all of North Myrtle Beach. Until then, many folks have patiently adopted a common mantra:
"No Pier, No Problem!"
While the Cherry Grove Pier is a huge attraction to the area and not being able to access it until right before Spring is a bummer, it is still a striking landmark with beautiful lights, providing the perfect ambience and backdrop to visitors. Plus – it's going to be very interesting to see the reconstruction of the missing section and how much better the pier will be. In the meantime – there's so many great things to do right there in the Cherry Grove area that you can experience other than walking on the pier. Here's just a few: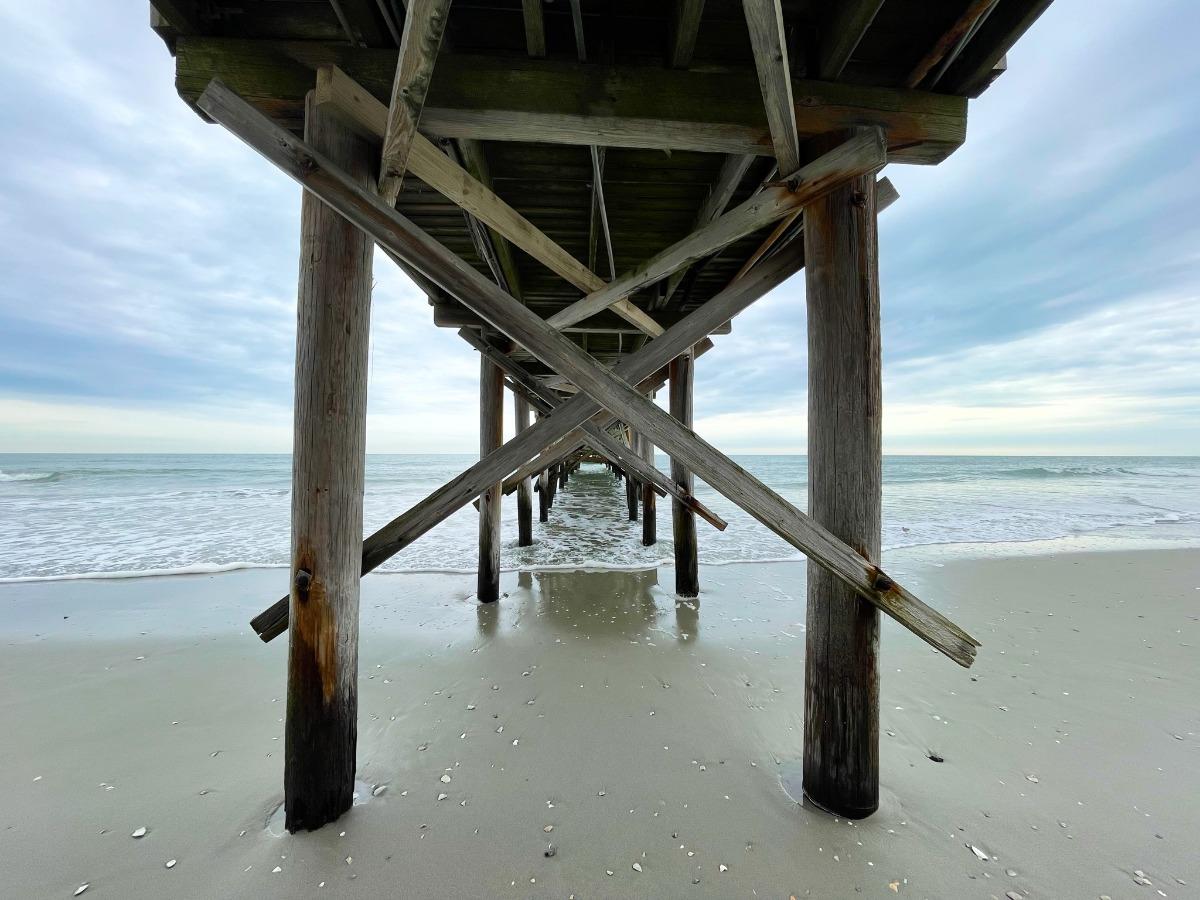 Cherry Grove Itself
Cherry Grove has long been one of the best family beaches, as well as one of the most relaxing beaches to visit in the entire state. There's no through-traffic, so it's naturally less busy and this leads to a calming atmosphere where folks can unwind and truly get away from it all. Cherry Grove is one of the best places to find shark teeth, shells, and to take in the natural beauty of two gorgeous nature trails full of wildlife. On your next trip to the area, be sure to check out the Burgess or the Heritage Shores Preserves located right here in Cherry Grove. You'll encounter everything from beautiful egrets, various water fowl, fish, foxes, rabbits, crabs, and even bald eagles. It's very interesting to see the oyster beds at low tide, shooting water into the air!
If you're looking for more adventure, there are several kayak tours that will take you through the beautiful marsh where you can enjoy wildlife and lazily drift on the tides.
Shopping
Cherry Grove also is a great place to shop, as Boulineau's is located at the foot of Sea Mountain Highway and Ocean Blvd. It's a wonderful place to get, well anything you need from groceries, gifts, supplies, and some amazing comfort food! I would say more, but you're probably going to end up there anyway! There's a couple of great pizza places that have been in the area for quite some time as well as a great new restaurant called Roco Roja.
Prince Resort
Prince Resort has some fantastic amenities to enjoy during the reconstruction time, as well. Revitalizing hot tubs await to soothe and refresh, as well as the popular 3500 Ocean Grill, where you can enjoy expertly prepared meals while watching the waves as you dine oceanfront. Breathtaking views from your modern accommodations will make your stay extra special while you relax on your very own private balcony. Also, the aforementioned lights on the pier at night are as romantic as they are relaxing.
Fishing
If you're bummed about fishing from the Cherry Grove Pier, don't fret – now is a great time to perfect or try surf fishing! Surf fishing is a fun and challenging way to catch a variety of species from Spot to Drum (and occasionally sharks!). You can also enjoy fishing from "the point" nearby at the very northern tip of Cherry Grove. You'll be able to catch a variety of species there while bird island provides the ideal backdrop for photos.
It won't be long before the Cherry Grove Pier is back to its glory and you'll be strolling along as that salty ocean breeze greets you once again.
The Cherry Grove Pier will be closed from 12/12 until March 2023, where it will open in limited capacity. It is anticipated to be fully open in early May 2023.